From: Dia...@a...
To: danfuzz@milk.com
Subject: I LOVE MILK
Date: Tue, 16 Jul 2002 10:07:27 EDT

DEAR DANFUZZ,
I WOULD LOVE TO SHARE A STORY WITH YOU ABOUT MY RECENT PREGNANCY.I HAVE
ALWAYS BEEN A MILK DRINKER. DURING MY PREGNANCYI WENT THROUGH 1 GALLON OF
MILK BY MYSELF EVERY
OTHER DAY.SOMETIMES IF I WOULD RUN OUT OF MILK FOR ANY CONSIDERABLE TIME I
COULD DRINK A GALLON WITHIN 6 HOURS.BY MY 9TH MONTH MY STOMACH WAS
ENORMOUS.PEOPLE ASKED IF I WAS HAVING TWINS AND SEVERAL ASKED ME IF I WAS
HAVING TRIPLETS.THIS BEING MY FIRST BABY I ASSUMED I WAS JUST EATING ENTIRELY
TO MUCH AND WAS GETTING UNHEALTHLY FAT.
    ON MAY 29,02.I WENT TO THE HOSPITAL TO GET MY LABOR INDUCED BECAUSE I WAS
STILL NOT HAVING ANY CONTRACTIONS.I WALKED INTO LABOR AND DELIVERY AND THE
NURSES COULD NOT BELIEVE THAT I WA S ONLY HAVING ONE BABY.I WAS TOLD TO GO
DOWN TO ULTRASOUND TO SEE APPROXIMATELY HOW MUCH MY BABY WEIGHED.THE
ULTRASOUND DR. DID THE NECESSARY TESTS . AFTER SEVERAL MINUTES HE LOOKED AT
MY HUSBAND AND I . HE SAID ,"THIS BABY IS OFF THE CHARTS ".I RETURNED TO
LABOR AND DELIVERY AND GAVE THEM THE RESULTS OF MY ULTRASOUND.I WAS TOLD THAT
SINCE I AM 41 WEEKS PREGNANT THEY WERE GOING TO GIVE ME A C-SECTION TODAY.
    AT 5:40 PM  THE NUSES PULLED OUT A BIG AND HEALTHY 12LB 1OZ BABY BOY.I
KNOW BEYOND A SHADOW OF A DOUBT THAT I OWE THIS TO MY EXCESSIVE MILK
DRINKING.MY HUSBAND AND I ARE GOING TO TRY AGAIN NEXT YEAR TO HAVE ANOTHER
BABY.THIS TIME I A GOING TO TRY FOR A 13 POUNDER................DIANA D...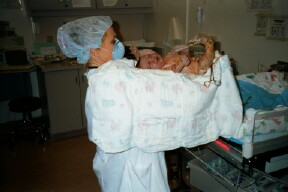 ---

From: Dia...@a...
To: danfuzz@milk.com
Subject: I LOVE MILK
Date: Tue, 16 Jul 2002 10:09:29 EDT

HERE IS A PICTURE OF ME A COUPLE OF HOURS BEFORE I HAD THE BABY

---

From: Dan Bornstein <danfuzz@milk.com>
Date: Wed, 31 Jul 2002 16:14:16 -0700
To: Dia...@a...
Subject: Re: I LOVE MILK

>THE NUSES PULLED OUT A BIG AND HEALTHY 12LB 1OZ BABY BOY. I KNOW BEYOND A
>SHADOW OF A DOUBT THAT I OWE THIS TO MY EXCESSIVE MILK DRINKING.

Wow! Impressive! Thanks for sharing,

-dan